Next week kicks off in Helsinki (march 30 till April 2).
So will in Delft, March 29 till 31. The symposium will discuss swarm architecture, pervasive gaming, sensual buildings (!!!), Paskian envirenments, etc. I'll report from that one, so will .
, together with and in Rotterdam, is organising , a . It will be streamed live on . Panelists include Isaac Mao, Zhang Ga, Karsten Giese and Guobin Jang*.
Next week again, will attempt to define and discuss how "the interfaces of control mechanisms" are shaped and alter our lives in different local contexts. On the programme: sound performances, installations and screenings of works and documentaries along with a panel.
31 March 2006 - 2 April 2006. , Graz.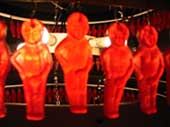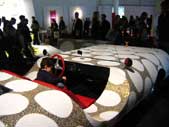 Wednesday 5 to Monday 10 April will be 6 exhausting days as i'll be running around Milan to blog the . The fair has moved to a , designed by , in Rho-Pero. But most of the fun will still be in satellite events scattered in the city centre. In tune with the event, a new will open in Zona Tortona.
After that i'm off to lovely Aix-en-Provence. has invited me to give a talk at the on April 12.
Outside of Europe: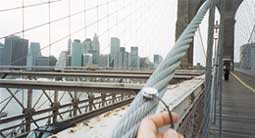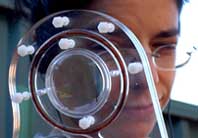 Recording the Brooklyn Bridge, photo: Jodi Rose
and Nigel Helyer's
consisting of sound installations and commissioned works that investigate the real and imagined remnants of human presence in architecture. Includes works by , , , , , , , Amanda Stewart & .
Through April 22. , Sydney, Australia.
Next week, [GAS] will open
Object Lessons
, an exhibition of 7 emerging artists from Southern California. The show investigates the current debates of communications literacy and the extent to which we are constituted by our technologies. Includes:
's is a writing system for representing speech sounds and the visceral responses they can evoke (image below). The project explores the complex relationships between speech, meaning, and writing and comprises several animated, sculptural, and print works.

Can I Get An Amen?, by , unfolds a critical perspective on one of the most sampled drums beat in the history of recorded music, . It begins with the pop track
Amen Brother
by 60's soul band The Winstons, and traces the transformation of their drum solo from its original context as part of a 'B' side vinyl single into its use as a key aural ingredient in contemporary cultural expression. The work attempts to bring into scrutiny the techno-utopian notion that "information wants to be free." it questions its effectiveness as a democratizing agent. .)



The show features also 's of applauses; Kelli Cain and Brian Crabtree's egg-tapping robots; 's which is a self-contained system for telling stories, stored as rows of tiny holes in spools of paper tape; 's transforms six pop hits into a series of comprehensive drones, to erase the effects of pop music on the mind.
March 29 - May 19, , New York.
For , (Claremont CA) presents a planned by artists affiliated with , a non-profit org that supports creativity and experimentation in art, technology, and science.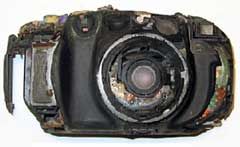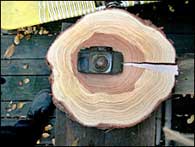 Until March 31, 2005,
Chronic Revelator
, by Phill Ross, will feature works revolving around organic/industrial growth and decay, including some of the . Along with the cameras will be several large wooden anti-clocks.
* Related: Martijn de Wall's e last month.
©©
Publicado originalmente en