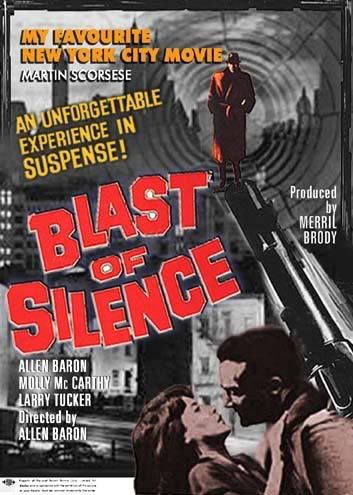 Shot on the streets of New York in black and white by a minimal crew, with writer/director Baron himself taking the lead role (a part originally written for young actor Peter Falk), the production embraces its limitations. The film turns the bustling streets and chilly urban atmosphere into an alienated world where "Baby Boy" Frank Bono, the disconnected killer who prefers the isolation of his own company, uses his spite and self-hatred to focus on the meticulous details of plotting and executing a murder. The film plays like an unholy marriage between the realist films noir of the '40s like "The Naked City" and the early independent dramas of John Cassavetes, with a narrator (uncredited Lional Stander) speaking in second person like the twisted inner voice of a soul that has been basting in antipathy and spite for years. The hard-boiled riffs play like pulp beat poetry distilled into pure misanthropic cynicism.
The film was almost impossible to see for years, known only by reputation until a small but revelatory revival in the '90s. It finally comes to DVD in a handsome edition by Criterion, which also features the 60-minute documentary "Requiem for a Killer: The Making of Blast of Silence," shot largely in 1991 by director Wilfried Reichart (after the film's revival at the Berlin Film Festival) and expanded by Robert Fischer in 2007. Baron is a good host, sharing stories and observations as he walks through the locations (circa 1991) and talks about the film and his career, and he bookends the production with new interviews from his home in 2006. Also features galleries of stills comparing the film's locations then and now and dozens of Polaroids (most of them scuffed and faded with time) shot on the set of the production, a booklet with a new essay by film critic Terrence Rafferty, and a four-page graphic-novel adaptation of the film by artist Sean Phillips (who also drew the DVD cover art).
Scene Releases- NFO, Samples, Trailer
Pendiente de Licencia / ... del autor o autores.