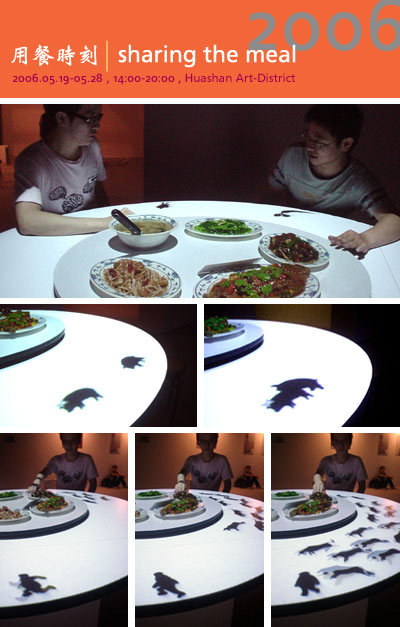 The installation is shown at the in , from May 19th to May 28th, 2006.
Sharing the Meal
revolves aroung a Chinese round table for five people. The conception is quite simple, animation shows and inspires people around to share the food on the rotary table. Another key idea is to strengthen the traditional table manners with the amusing visual effects. It also brings out the conversation at the table. When someone sits down and the turntable rotates, animation would appear and reacts with the rotation. Take users A and B for example, when A sits down at the dish of clam soup and the turntable rotates, in front of him a thermometer appears. At the same time, a large clam appears in front of B, which makes a pair with the thermometer. When A keeps on rotating the turntable to pass the clam soup to B, the temperature on the thermometer rises continuously. When the thermometer meets the large clam, the temperature is above 100 F, so the clam's cooked. The animation of a cooked clam dancing at B's ends, and the next turn of sharing the meal starts. There're five dishes on the table, each has three kinds of interacting animations. The total 15 animations lead people to rotate the turntable to make interactions, describing a situation or imagination.
In this case, Ah Kwan took the responsibility of the whole conception, animation, vision and the design of interactive system. Daniel wrote the process and did the system design, as well as detail works. The installation mainly depends on ActionScript, and the most difficult point is to deal with the rotation angle and the calculation of the animation position according to the round table. The 15 animations do not use the same interactive system. So it was an interesting challenge for Daniel who's not good at maths. For the hardware part, three kinds of sensors are used to sense the rotation angle of the turntable, the condition of five seats and the gesture of people rotating the turntable.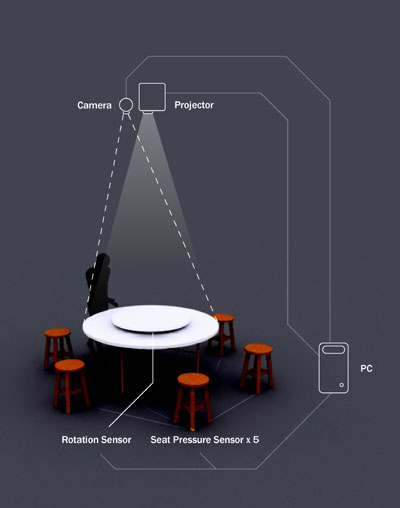 The dream behind the installation is that one day there will be a Chinese interactive restaurant which offer creative service and better dining experience. However, people still need a long time doing experiments and research to reach that aim, or it could only be an installation inside the exhibition hall. The main direction of this work is finding a way to get into ordinary life and attract people to use it continuously. So people who have chance to see the exhibition recently please give Ah Kwan your feedback and comments.
Related stories: (2001) by minim++; by Kyoko Yamakawa.