Prada probably decided that was a wonderful PR after having seen his , the model of a concentration camp, made from a Prada hat box. They even offered the artist an unlimited supply of shoeboxes for the . Sachs now has a show at the Prada Foundation in Milan.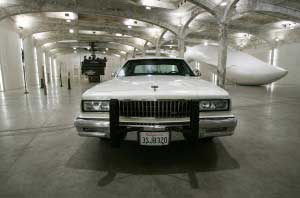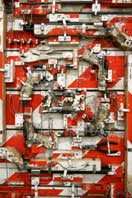 and were conceived especially for the 1,500 sqm of the Fondazione space.
is a reconstruction of the command area on the bridge of an aircraft carrier, inspired by Enterprise CVN 65, the first nuclear-powered aircraft carrier (Sachs has dealt with nuclear before, see , a true-to-scale replica of the Fat Man, the atom bomb dropped on Nagasaki in 1945). is equipped with working radar, monitor, cameras and radio devices. Inside the cabin are everyday necessities, including cigarettes, alcohol and a toilet.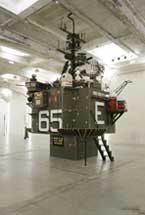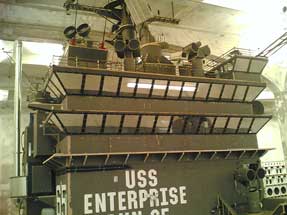 The other new work is the , a reconstruction of an 18-metre long blue whale. Sachs took his inspiration from the hanging at the in NYc.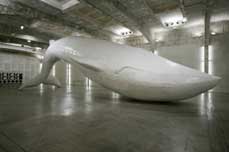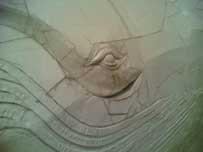 There's also a , endowed with every comfort: huge fridge full of beers, ashtray and extractor of smoke, stereosystem, waste bin and the videogame GTA to play with.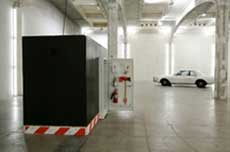 Other works on display: which do not look much as they were made with recycled materials but they are fully functionning, a , a collection of and more fire .
The show runs until June 15, at the , Via Antonio Fogazzaro 36 - Milano.
More (some are mine and the beuatiful ones, taken by Attilio Maranzano, are from the Press Kit i requested when they told me "No picture, no picture!") and of the in Milan.
More about the artist in an and on .